Camp Nirkoda Ba'Kerem
Thanks for coming to Nirkoda Ba'Kerem 2023! See you next year!
Camp Nirkoda Ba'Kerem
An Israeli dance and wine tasting adventure!
July 7-10, 2023
Sonoma State University,
Rohnert Park, California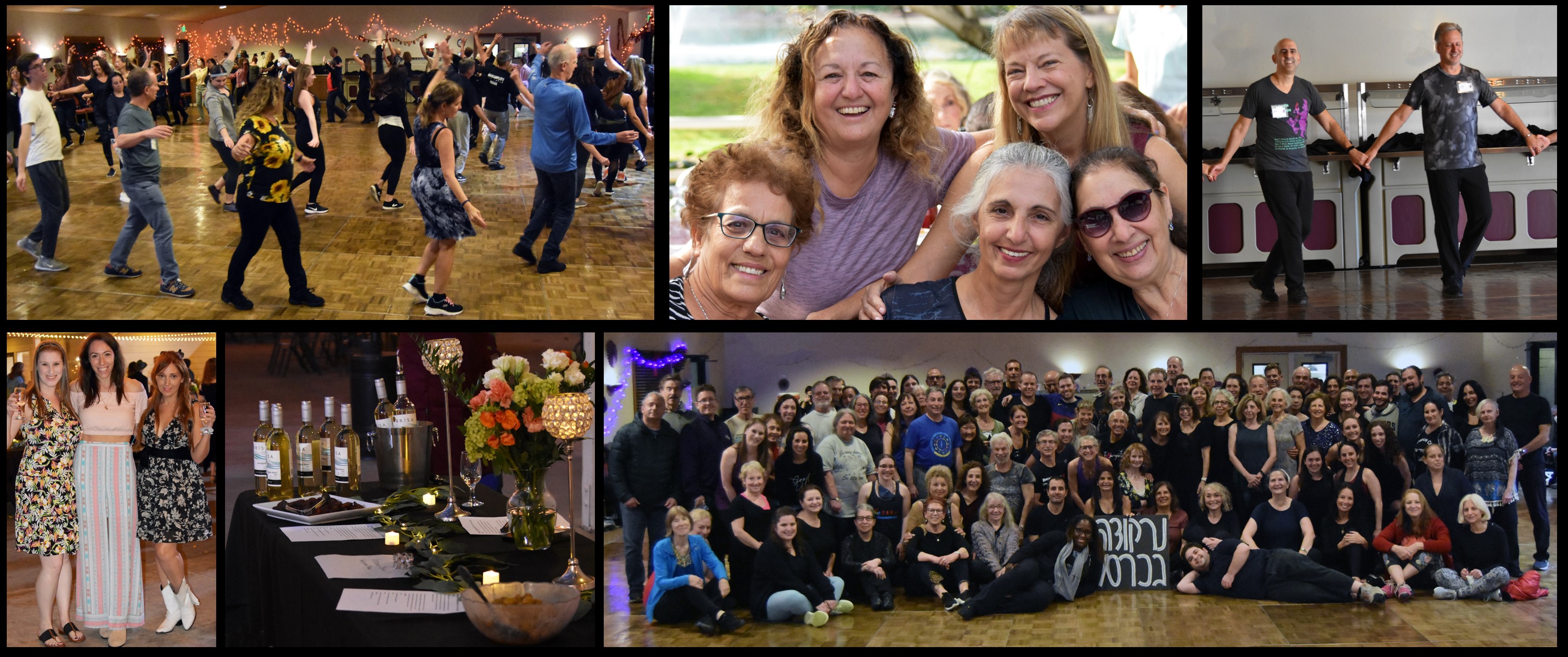 Photos from Nirkoda Ba'Kerem 2022!
Wrap-Up from NBK 2022
Dances Taught
Music and videos are available on Google Drive or can be viewed on YouTube. Dances taught at all prior camps can be found here.
What is Nirkoda Ba'Kerem?
Set in the relaxed landscape of California wine country, Nirkoda Ba'Kerem is all about community. Come join your friends — some you've known for years, and some you've yet to meet — for a fun-filled weekend of nonstop Israeli dancing. We'll enjoy the benefits of California's famous vineyards by incorporating a wine tasting adventure during the camp! Excellent wine and fantastic Israeli Dancing — what could be better?! Don't miss it!
---
Meet the Staff

Shlomo Maman has a chorography career spanning 47 years, and has created iconic classics — Hora, G'vanim, Shimri Li Al Ha'mangina, Shiri Li Kineret —, high energy horas — Zemer Avivi, Anachnu Ha'roim, Bat Shlomo, Neve Midbar —, and popular partners — Seret Shachor Lavan, Yafe Lecha Sameach, Kach Oti, Al Ktzot Ha'etzbaot, Talat Dakat. Shlomo is also a consummate stage performer, having personally danced for Israel's Eurovision entries in 1982 (Hora) and 1983 (Chai), and leading the Karmiel Dance Festival as its founding artistic director. Today, he is one of the markidim for Tel Aviv's famous public Gordon Beach session. On top of which, he's a fun and goofy guy who will make you smile as you dance!
Tamir Scherzer is excited to return to his dancing roots in the Bay Area! He returns with a wealth of experience, a high-energy presence, and knowledge of (nearly) every dance ever made. In fact, he used to perform in Shlomo Maman's group, and still collaborates with Shlomo on occasion. Today, Tamir runs his own sessions in the eastern suburbs of Tel Aviv. He has also choreographed a number of great dances: Goca Dünya, Le'Chayim, Murcia, Matok Matok, Lailah Li, Shuvi Le'beitech, Ketzev Ha'tarbuka, and more. Most importantly, Tamir's infectiously friendly personality invites you to run and join him on the dance floor!
Her Excellency, Latishya Steele, PhD, returns as our Mistress of the Computer, our Granter of Requests, our Voice Upon the Microphone — in other words, our incomparable DJ and assistant director. She will keep you on your feet all night long — and well into the morning! Latishya started her dancing career in Boston and Chicago, and she is now one of the leaders of the Nirkoda Le'Chayim session in Northern California, where she showcases her incredibly deep repertoire and talent for keeping the party going.
Aaron Alpert is your camp director and host for the weekend. His main job is to ensure that you're having an awesome time! A second-generation dancer, he was dancing before he could walk. He started teaching in 2007 at the UC Berkeley DeCal class, and then started branching out to the other Bay Area dance events. Today, he runs Nirkoda Le'Chayim with Latishya every Thursday in Palo Alto. Let him know if there's anything that can make your camp experience better.
---
Sonoma State University
Housing
Sonoma State's Beaujolais Village offers all-singles housing arranged in four-person suites (see the video tour). Each person has a private bedroom and private bathroom. Four bedrooms open to a shared living room and full kitchen. The kitchen has a refrigerator, microwave, stove, and dishwasher. (However, if you'd like to have cookware, a coffeemaker, etc., you have to bring your own.) The living room and bedrooms are fully furnished with tables, chairs, couches, and desks. Each bedroom has an extra long twin bed, and linens are provided (sheets, blanket, pillow, bath towel, washcloth, bathmat). Dancers will also have access to the laundry room (included), and the pool and hot tub.
Unfortunately, we have only one type of room. If you are coming with a spouse or significant other, they will have their own room next to yours. It's only three nights, and we'll wear you out anyway. If you must, you can get creative, but note that furniture must end up in its original location, undamaged, or the University may assess charges.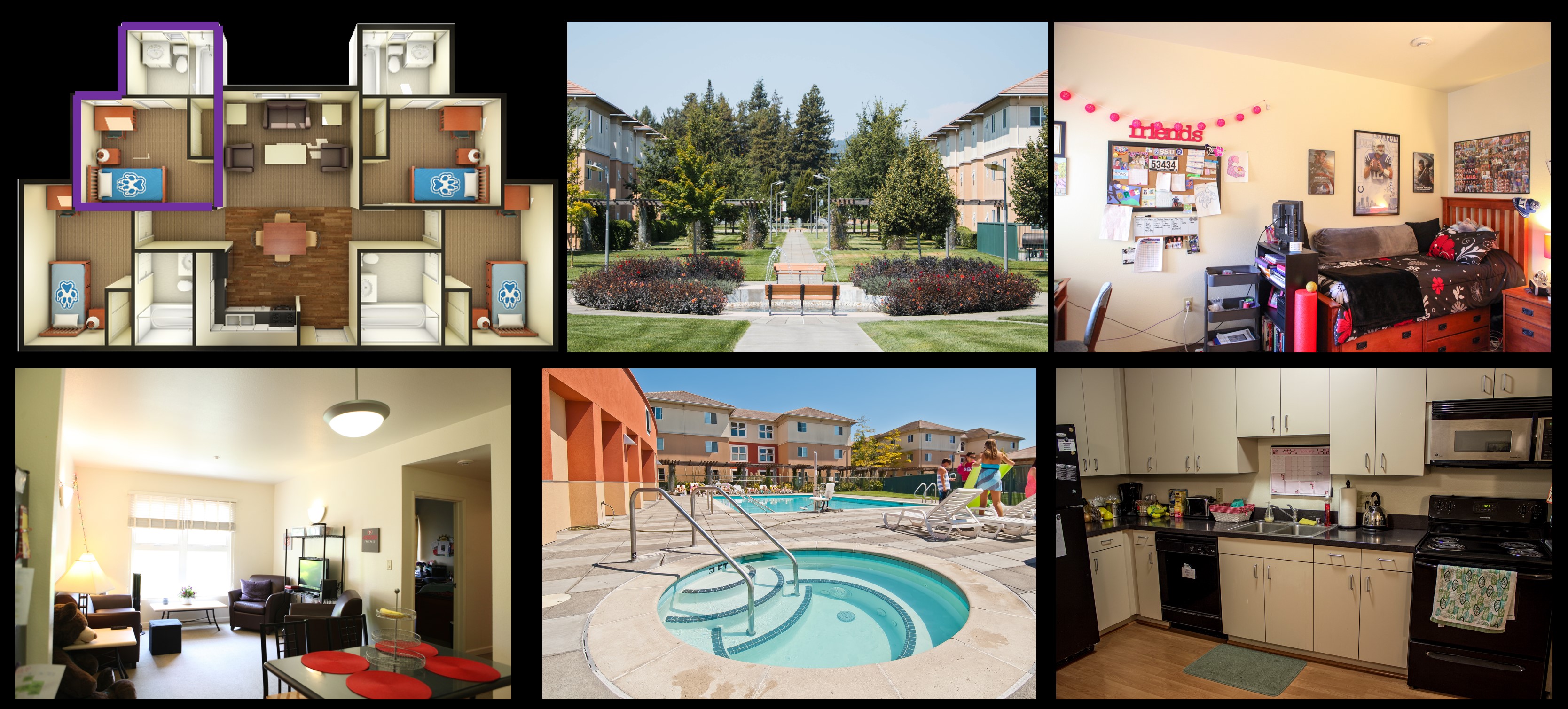 Dance Hall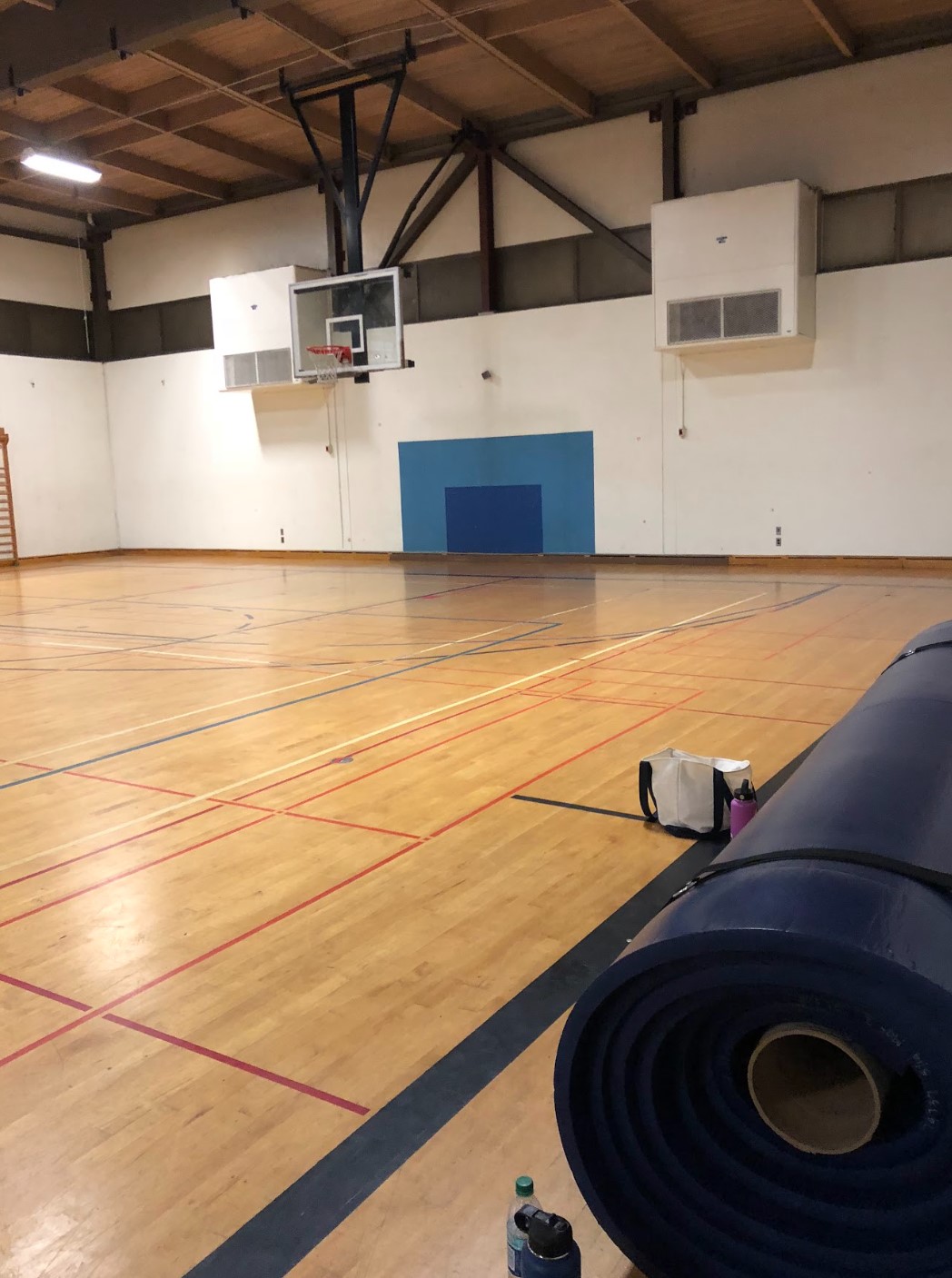 We will be dancing in Field House, one of the gyms that makes up the Seawolves athletics complex. It has a large, sprung wood floor for comfortable dancing, and is located conveniently close to Beaujolais Village. Bring a water bottle so you can stay hydrated at the fill-up stations.
Some specialty sessions may take place at the adjacent PE1, which is a formal dance studio. For this room, only dance shoes (no street shoes) are allowed.
Dining
We will eat in The Kitchens, SSU's main dining hall. Food is offered all-you-can eat buffet style via seven "platforms" — salad bar, grill, Italian, Mongolian BBQ / street tacos, chef's specialty, pop-up experimental, and desserts. As we are not the only group on campus, they are unable to provide kosher meals in The Kitchens, but the wide variety of options ensures there are plenty of vegetarian, meat-without-milk, and fish choices, so you can find something. They can accommodate most dietary needs, but please contact us if you have questions or require a highly specialized diet.
Campus and Amenities
The Campus Recreation Center is available to NBK participants, and features a range of spaces, including two basketball courts, indoor track, yoga studio, spin cycling studio, fitness center, climbing wall, lap pool, and table games like ping pong and foosball. It is only open on weekdays (Friday or Monday).
If you prefer something more relaxing, you can meander the peaceful and verdant 269 acre campus. Perhaps you'll stumble upon the hidden lakes, Alumni Grove, Copeland Creek, university art gallery, Holocaust memorial, or just a nice bench to sit on for a while.
SSU is very accessible! It's 45 miles north of Downtown San Francisco (about a 90 minute drive, depending on traffic). Of course, there are plenty of amazing wineries just a stone's throw away, and going off campus puts you in easy reach of Starbucks, Safeway, Costco, and Target, and a plethora of local restaurants and shopping.
---
Pricing
Registration Category
Early bird
Regular

Beaujolais Village

— Four-person suite, private bedroom and bathroom for each person, shared kitchen and living room
      Standard
$685
$745
      Support Crew — several hours helping with set-up, clean-up, etc., required
$550
$610
      Student — full-time enrolled, up to age 25, will also help on the Support Crew
$400
$460
To receive the early bird price, you must be paid in full by May 7, 2023.
The prices listed above are for check or cash payments. If you choose to pay by credit card, a 3% processing fee is added.
Unfortunately, Beaujolais Village does not have any "economy" rooms, like last year's quads, basics, or dorms. For that reason, we are offering the discounted Support Crew registration. In exchange for this discount, Support Crewmembers will provide several hours of support throughout the weekend, mostly with set-up and clean-up tasks. There are a very limited number of these spots available, and we ask for your understanding and empathy in leaving them available for those with financial need.
In order to foster the growth of a cohesive, unified, consistent community for the weekend, we do not offer partial registration (e.g., two-nights only, just the evening parties).
Scholarships
If you need more assistance beyond the Support Crew discount, we do have some Scholarships available. They are available on a first come, first served basis. Ask Aaron what is available. Exact amounts will depend on financial need and dancer age (we want to support our youngest dancers).
If you want to help young people come to camp by donating money or other items (such as airline miles), you can do so on your registration form, or let us know by email.
---
COVID-19 Safety
Balancing the inherent risk of COVID-19 at a community dance event, dancers' range of risk tolerance levels, and the current COVID situation, we have devised the following policies:
Testing.

All participants will be required to show proof of a negative COVID-19 test at check-in. We accept: a photo of an at-home rapid antigen test (taken no more than 24 hours before arrival), or a lab report for a PCR test (taken no more than 72 hours before arrival).

Vaccination.

At this time, there is no vaccination requirement, but we strongly encourage all participants to follow the CDC's recommendations to stay up-to-date on vaccination.

Masks.

At this time, camp is mask-optional.

If You Catch COVID.

If you test positive for COVID-19, are exposed, or are feeling unwell, please do not come to camp. In this case, the participant is entitled to a full refund, provided s/he provides proof of a positive result from a COVID-19 taken in the 10 days before camp.

Rules subject to change.

We understand the uncertainty and fluidity of these rules are unsettling. At a minimum, rules with comply with state and local mandates, as well as Sonoma State University requirements, but the Director, in his sole discretion, may impose additional requirements. By registering, you agree to follow whatever those rules are. Dancers who are unwilling to comply with the COVID-19 rules at the time of camp will not be able to attend and are not entitled to a refund. If you have questions, feel free to reach out.
---
What's Included?
Food
The prices above include all meals (Friday dinner to Monday lunch) and snacks. Meals are not kosher, but there are many vegetarian, meat-without-milk, fish, and other "kosher-style" options at the large buffet. SSU can accommodate most dietary requirements (vegetarian, vegan, lactose-free), which you can indicate on the registration form.
Camp Events
Access to all Israeli dance and other camp activities (games, Shabbat services, etc.) is included.
Accommodations and Parking
Three nights lodging with linens provided. Free parking permit for 3 nights in the lot next to Beaujolais Village.

Wine Tasting
Our signature wine tasting experience is included with the price of admission. Camp Nirkoda Ba'Kerem's expert sommelier has chosen several excellent vintages for you to sample as our sommeliers help you to identify the subtle flavors of each wine. For those participants who do not drink, we will have a simultaneous fancy non-alcoholic beverage tasting. All dancers have the opportunity to evaluate their favorites and to enjoy the harmonious pairings.
Camp T-shirt
We might have a camp t-shirt available. If so, it will not be included with the price of admission, but can be purchased online before camp.
---
Schedule of Events
The full, detailed schedule will be released as we get closer to the event, but to give you a general sense of what's going to happen...

Friday
Saturday
Sunday
Monday

Morning
Learn new dances
Review dances that we taught
Learn a few more
Breakfast, goodbyes, and lunch

Afternoon
Registration and welcome session
Specialty sessions (e.g., horas, partners, cardio,...)
Specialty sessions (e.g., oldies, debkas, international,...)
Evening
Shabbat
First dance party (until ~2 AM)
Havdallah
Theme party
Second dance party (until ~4 AM)
Wine tasting
Third dance party (until ???)
Note that we are aiming to learn approximately 8 dances over the course of the weekend. Refer to this list of
dances taught at previous camps
for an idea of what types of dances we learn.
It has not been determined if we will or won't have a pre-party on Thursday night, but most likely yes.
---
Getting There
Driving: Sonoma State University is about 45 miles north of Downtown San Francisco, over the Golden Gate Bridge. This drive can take anywhere from 1 hour to over 2 hours in traffic. We encourage you to carpool, and we will set-up a message board for you to arrange rides. For electric vehicles, there are charging stations on campus.
Flying: There are three primary options,
Sonoma County Airport (STS) is a smaller regional airport with less flight options, but it's only 20 minutes from SSU, and no traffic. An Uber, Lyft, or taxi will run about $30.
San Francisco (SFO) is the larger airport with more flights. It's a 1 hour drive, but in rush hour traffic, that can stretch to over 2 hours. From there, you can either rent a car, carpool with a local, or you can take the Sonoma County Airport Express bus. It's $42 one-way or $80 round trip. It stops at the DoubleTree Rohnert Park, which is a 10 minute Uber ride from SSU.
Oakland (OAK) is a medium-sized airport. It's about the same distance to SSU as SFO is, so not much of an advantage there, though it's worth checking to see if there happens to be a cheaper flight. The Sonoma County Airport Express bus also operates from OAK to the DoubleTree Rohnert Park for the same as it costs from SFO.
Address: The main campus address is 1801 E Cotati Ave, Rohnert Park, CA 94928, but please check Google Maps to see the location of Beaujolais, as you will park in the adjacent lot.
---
Policies
All participants must sign a waiver of liability. To confirm your reservation, a deposit of $100/person is needed within 2 weeks of registering. To receive the Early Bird price, full payment is due by May 7, 2023. Full payment for all participants is due by June 7, 2023, and failure to pay the full amount by that date will result in the loss of your reservation as well as forfeiture of all deposit payments. Requests for cancellation must be made in writing no later than June 7, 2023, and are subject to a $100/person cancellation fee. After June 7, 2023, no refunds will be made for any reason, including a change in the COVID-19 safety rules. Registrations are non-transferable.
Exceptions for COVID-19: If you experience COVID-19 symptoms, test positive for COVID-19, or are exposed to someone diagnosed with COVID-19, do not come to camp. In this case, you will receive a full refund regardless of the dates in the previous paragraph, provided you provide sufficient documentation.
We accept credit card via the online registration form, with a 3% processing fee. You can also submit check or cash payments.
No pets or other animals may be brought to camp (except service animals).
---
Questions?
Email registration@nirkoda.com.