Nirkoda Ba'Gan: Outdoor Session
We're Back! Starting Jan. 31, 2021
Overview
Nirkoda Ba'Gan ("let's dance in the park") is an entirely outdoor, socially-distant Israeli dance session, beginning in October 2020. The class is offered by the City of Palo Alto, and led by Aaron Alpert and Latishya Steele.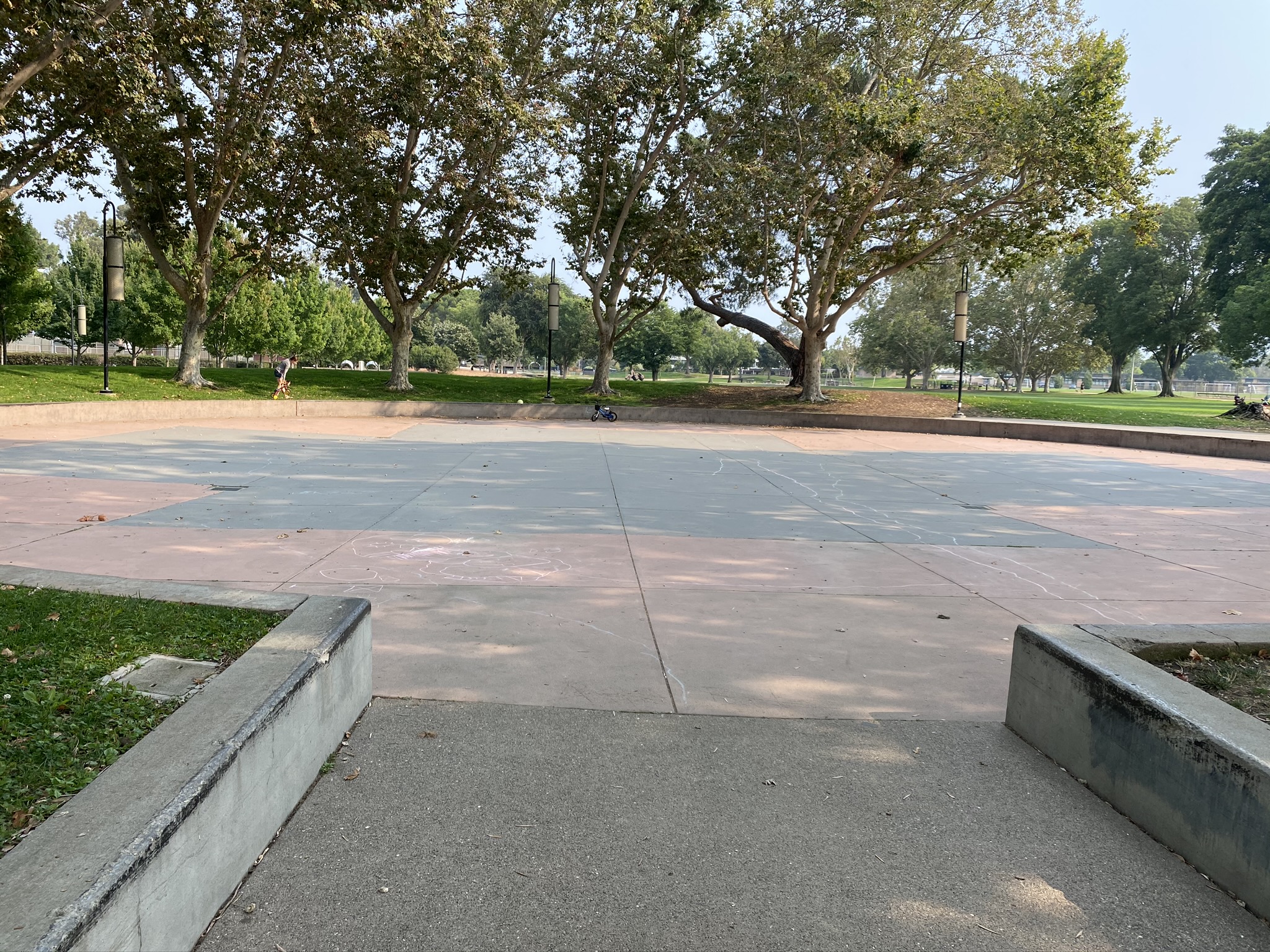 The Concrete Bowl at Mitchell Park
COVID-19 Precautions
The health and safety of our Israeli folk dance community is the most important consideration in all of our planning. No set of restrictions will completely eliminate the risk of COVID-19 transmission, but we will take all possible precautions to minimize the risk.
The City of Palo Alto is allowing this session with the agreement that we will strictly enforce the rules below. No exceptions: anyone not following the rules will be told to leave.


Rules:
The session will take place entirely outdoors.
Masks: All participants must wear a mask in compliance with CDC guidelines, including while dancing.

Masks should be made 2+ layers of washable, breathable fabric. Masks with open vents, face shields, and neck gaiters are not acceptable.
Masks should fit snugly and cover your nose and mouth.
If you need to take a "mask break," "water break," etc., please move at least 20 feet away from any other people before removing your mask. Put it back on before rejoining the group.
If you forget a mask, Aaron will have single-use surgical masks available for $1.

Social distancing & attendance cap

Be aware of your surroundings and maintain 6 feet of distance between yourself and other dancers.
Attendance is limited to 42 people, which will give 150 square feet per person.
You must register in advance (see details below), so that we can manage attendance.
When you register, you will be asked to sign a waiver, acknowledging that even with our risk mitigation protocols, there is a chance you may contract COVID-19. You will release the City of Palo Alto and the instructors from liability.

There will be no partner dancing. This was one of the City's conditions in order to allow the class at all.
All participants will check their temperature on the day of the event. You must stay home if you have a fever over 100°F or any other COVID-19 symptoms, including cough, difficulty breathing, fatigue, muscle aches, headache, loss of taste or smell, sore throat, congestion, nausea, diarrhea.
Other things to keep in mind:
There will be no food or beverages provided. You are highly encouraged to bring a bottle of water (or two) from home. The water fountains at the park have been turned off.
There will be bottles of hand sanitizer available. Please sanitize your hands often. Even better, wash your hands with soap and water in the bathrooms.
You can sit on the ledge around the perimeter of the bowl. Keep in mind the concrete has not been cleaned, so sanitize your hands after sitting.
Although the Mitchell Park Bowl is smooth and well-maintained, it is concrete. Wear appropriate footwear. Modify your steps (reduce turns, avoid stamping, jump gently), and be mindful of your surroundings.
The park is a public space. Avoid leaving jackets, shoes, or valuables in the open, and think about what is visible in your car. The City of Palo Alto and Nirkoda do not accept responsibility for theft or damage to your personal property.
There is a public bathroom open and available about 200 feet from the bowl.
Details
Schedule
We meet on Sundays, 2:00-5:30pm (to ensure we have daylight). In general, we begin with easier and older dances, moving to more challenging and contemporary dances as the class progresses. We alternate between teaching new dances and then reviewing them. See the list of dances taught. Requests are welcome and encouraged!
Registration
You must register in advance on Enjoy Online — CityOfPaloAlto.com/Enjoy — Palo Alto's online system. Registration opens Monday 8:30 AM for the next session, six days later, and it stays open through the day of the class. It is first, come-first served. Keep in mind that attendance is capped at 42 and will likely sell out quickly. Per the City's refund policy, you can withdraw your registration up to 5 days in advance, which will be issued as a credit towards another Palo Alto class, including Nirkoda Ba'Gan for a different week. (The City imposes a $15 fee for cash refunds, which is more than the price of the class, so it's not really an option.)
Rain-outs and Other Cancellations
We may occasionally have to cancel due to rain, extreme weather, or other events outside our control. In that case, the next week will be designated a "make-up session," and your registration will be automatically carried over. If you cannot make the make-up session, you can request a full refund.
Price
Residents of Palo Alto: $10
Non-residents: $11.50
Unfortunately, the City does offer discounts for student, seniors, or others.
Location
We meet at Mitchell Park (600 E. Meadow Dr., Palo Alto, CA 94303). Park in the east lot (map). We dance in the concrete bowl, here.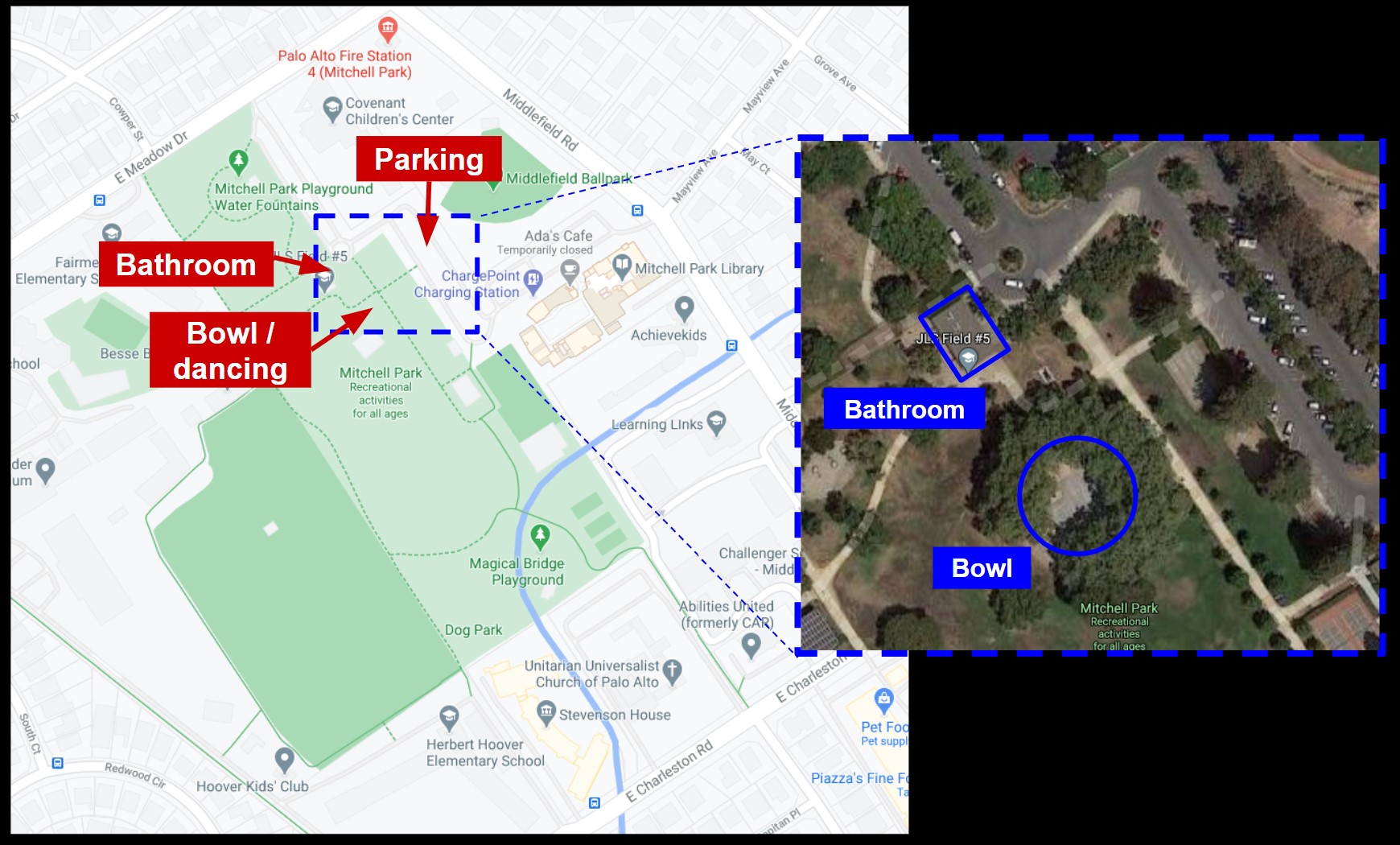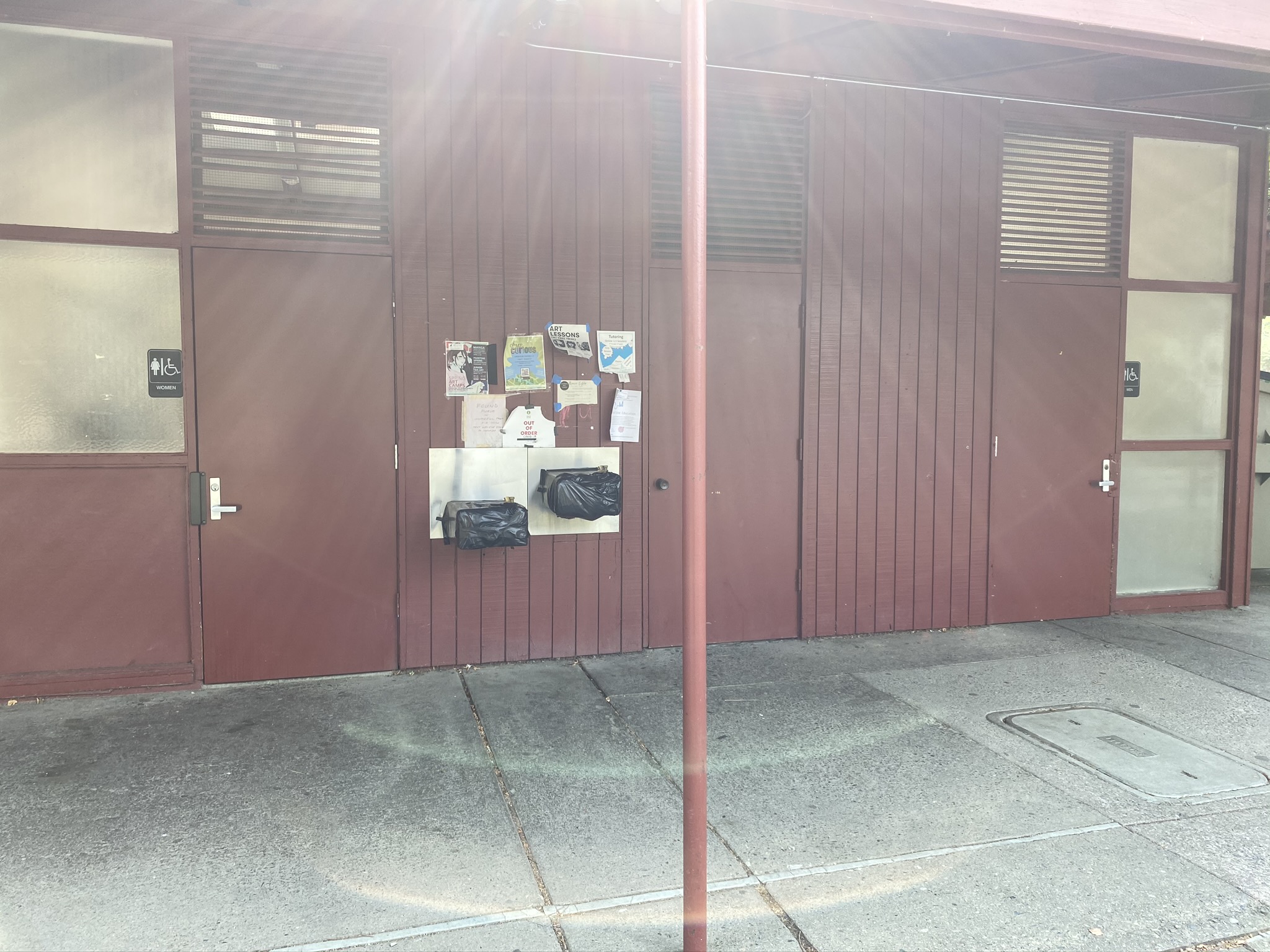 Restrooms are open and available